Hello from our gorgeous nation's capital!
I had such a fun day today! 🙂 I'm going to a cool conference this weekend in Baltimore called FitBloggin' (any of you guys going??), which is fun since lots of my blogger friends are in town! Including… Caitlin! 🙂
Caitlin emailed that she was going to be in D.C. today with no plans, so clearly we had to change that! Playing in the gorgeous weather with her was obviously a way better option than doing homework 😉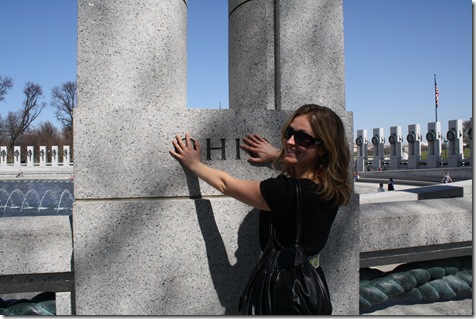 I picked Caitlin up from the airport around 11 and knew exactly where I wanted to take her for lunch — Java Green!! Java Green is a vegetarian, organic cafe in downtown D.C. I used to go there all the time when I worked downtown and I miss it so much!!!!
Mmmmm…!!!! I got my old favorite, which is the Jobche Noodle. It's yam (!!) noodles, cabbage, carrot, onion, mushroom, kale, and a choice of topping — I got the sweet "chicken." SO delicious.
We also had coconut water… out of a real coconut! Apparently we're on vacation. 😉
And then it was time to tear up D.C., taking silly photos along the way 😉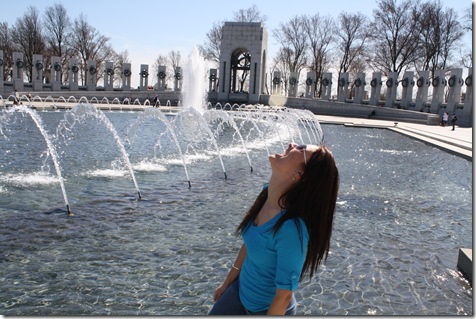 These dudes looked very important and official:
Most gorgeous weather ever. Is it really March!?!?
I dropped Caitlin off and headed to class at 4, and then met another blogger friend who's in town for dinner — the lovely Katy! 🙂 We went to Astor Mediterranean, which was delicious! I had the Astor Vegetarian plate. YUM!
Katy flew in tonight (also for FitBloggin!) with her husband and is staying at my place until we head to Baltimore tomorrow! Her husband is staying with a bunch of guy friends… Katy and I decided it would be way more fun for her to stay at my place 😉
We have plans for a workout and fun breakfast in the morning… she has requested my Pomegranate Blueberry Pancakes. 😉 Stay tuned! I'll also be blogging all weekend from the conference — we leave for Baltimore as soon as I'm off work!
…
p.s. Don't forget to enter my Food Scale giveaway if you haven't already — and check out the comments while you're at it! They are SO inspiring… I'm loving reading all of your healthy eating tips 🙂