Hey friends! I've got all sorts of randomness for you today, so I'm wrapping it up into a "life lately" post. Let's get to it!
First up: some good eats recently! Matt's parents were in town visiting over the weekend (they arrived Thursday evening and left Sunday after lunch), and it was great to see them.
It had been awhile since they visited and the kids (Riese especially) were thrilled to have them! My father in law enjoys cooking, and he made a few delicious meals for us while they were here. I always enjoy a break from the kitchen – thanks, Glenn!
On Friday, we had a pasta with turkey bolognese night. Always a hit, even with the kids! Plus some peas and unpictured garlic bread.
On Saturday night we had some yummy grilled pork chops – Matt's dad marinated the pork chops (I'm not sure what he used – he just grabbed whatever he saw in our kitchen and got creative – but it was quite good! I'm thinking a mix of soy sauce, maple syrup, parsley… maybe a little oil?) for a couple hours and then Matt threw them on the grill.
They came out delicious!
We had them with sautéed apples, some sweet potatoes (made using the microwave method: here's how to microwave a sweet potato) with homemade cinnamon butter, and sautéed string beans with a homemade dill butter. So good!
On Thursday night when my in laws arrived we had an easy rotisserie chicken and roasted potatoes dinner; my father-in-law turned the chicken carcass into a homemade chicken broth, and then made us some chicken, orzo, and vegetable soup. Yum!
I love that he always adds dill to chicken soup – it adds great extra flavor.
The first time we had it with some sandwiches (from Market to Market sub shop in Del Ray) on the side:
And the next day for leftovers I had a bigger bowl of it and stirred in some spinach and extra chicken. Enjoyed with some extra veggies (string beans) on the side.
One other meal of note recently: Matt and I had a fun date out on Tuesday for Valentine's Day!
Some years in the past we have stayed in and cooked a special meal (<- fun throwback to Valentine's Day in 2012!), but in this phase of life with small children, going out feels like more of a treat than staying in. 🙂
We went to The Majestic in Old Town, and to be honest the food was kind of meh, but the ambiance and the company were excellent. 🙂
The starter salad was pretty good:
But our entrees were just so-so – my salmon was yummy but I didn't like the pureed corn that it was served with – just kind of bland and blah. And Matt's steak had amazing flavor/sauce, but it was SUPER tough and took forever to chew.
Oh well – can't win em all, right? It was still really fun to get out regardless!
Let's switch gears to fitness now – it has been a solid couple weeks of half marathon training runs! My training buddy (and good friend from college) Kathleen and I did two runs since I last checked in – first was a 6 miler last weekend as our first run together in awhile (she was traveling for all of January).
6 miles, check! We ran on the Mt. Vernon Trail, and finished out the last little bit on Roosevelt Island.
This past weekend we decided to ramp it up to 8 miles for our long run. We met at Roosevelt Island and did a really big, fun loop around DC that took us along the Mt. Vernon Trail, and over Memorial Bridge into the monuments area:
It was such a gorgeous running day – really cold but super sunny. Loved it!
We ran all the way down the National Mall to the U.S. Capitol, which neither of us had run in ages so it was fun to mix it up! Kathleen used to live near the Capitol so we did a lot of training runs back in the day down here.
Picture stop! Thanks, random tourist who took this pic for us:
From there, we ran all the way back down the mall, past the Lincoln Memorial, and along the water towards the Georgetown Waterfront. Another area I hadn't run in in ages!
We ran back over Key Bridge and back down to Roosevelt Island parking lot to finish out the big loop. We overshot a tiny bit but I was pretty pleased with my rough distance estimates since I didn't calculate any of it out beforehand on a map or anything!
8.2 miles, check! This run gave us a good amount of confidence going into the longer distances – one of those "okay, we can still do this!" sort of runs.
On Monday of last week I also got in a run with my friend Katie – we didn't run yesterday as she was out of town for the holiday, but we usually run every Monday. I was feeling ready for a running break yesterday anyway after 8.2 miles on Saturday so it worked out well!
We ran from school drop off in Del Ray to the more southern parts of the Mt. Vernon Trail, and then looped back via Slaters Lane. We had great weather on Monday, too – the running weather gods have been smiling on us lately and I'm hoping it continues for race day…
Another 5 miles in the bank!
We've got 4 weeks until race day, and now that Kathleen and I feel like we have a decent base to work with, from here we will increase our long run distance one mile per week – so our next long run will be 9 miles, then 10, then 11, and then it's race day (13.1 miles)!
My very loose training plan for this race has me running 3 days per week – one 5 or 6 mile run with Katie, one 2 or 3 mile run with my friend Steph (another mom friend from school I run with once a week after drop off), and then my long run with Kathleen.
That feels like a good balance right now, especially with yoga the other days to keep me limber.
Have a great day friends, and I'll see you back here on Friday with some recipe inspiration!
—
p.s. Before I go, I wanted to share that my friend and fellow Registered Dietitian Kath has just launched a new virtual 6 week wellness program called Bloom. Bloom is designed to educate and motivate women who have put their health by the wayside and are ready to prioritize themselves again. I helped Kath edit and structure the program, so I'm happy to see it live and to recommend it!
Over the course of six weeks, blossom into your best self through lessons on intuitive eating, nutrition education, and cultivating healthy habits for the long term. The lessons encourage self reflection, and there are action steps to take each week, including journals and logs.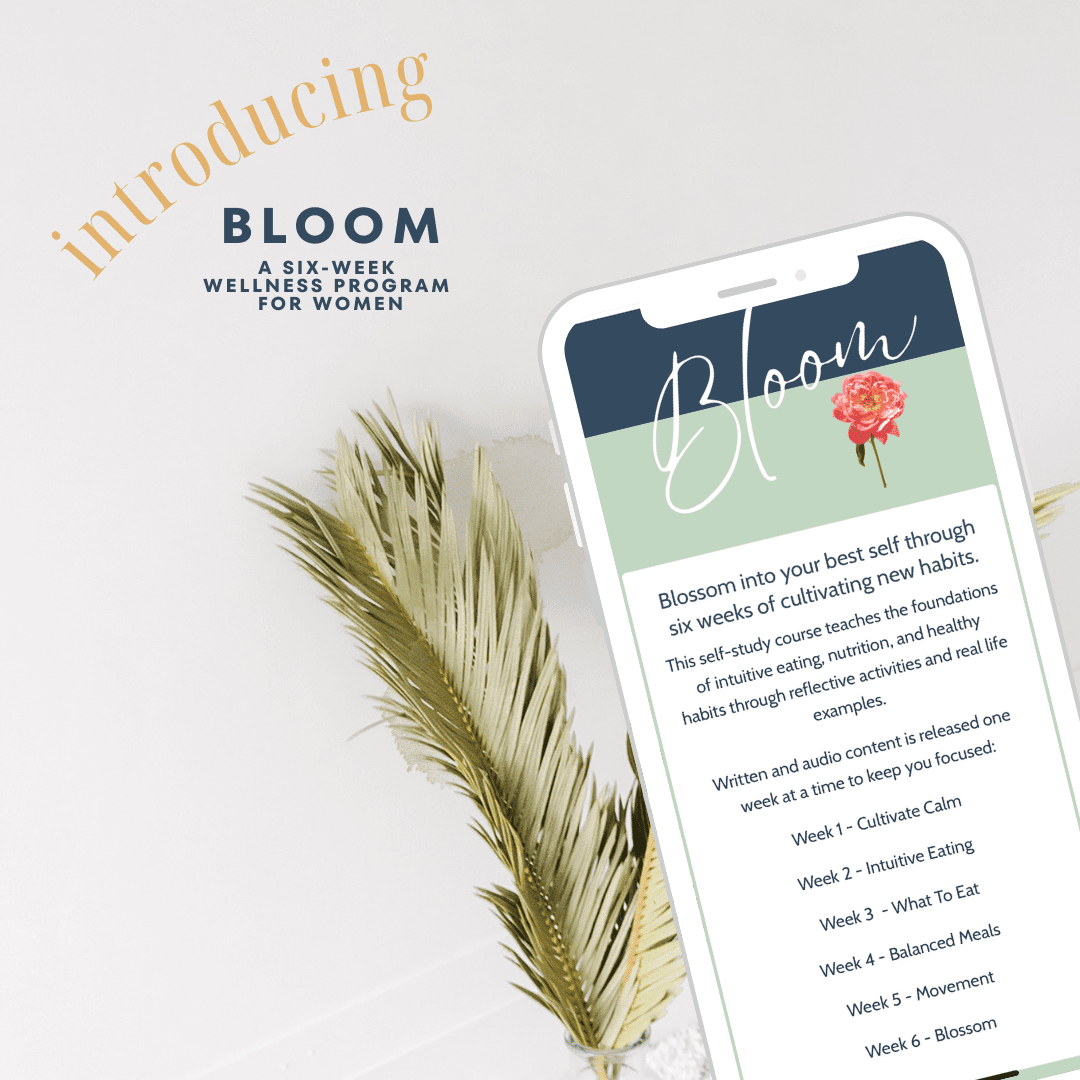 The self-study program is only $67, and you can add on the community called "The Garden" for accountability and support for $97 more. Here's my affiliate link to the program if you're interested in more info or signing up.
Don't delay, though – doors for the spring launch close on February 27, and everyone will start the program together on March 1!