Good morning!
If you're just catching up — check out my second half marathon race recap! Anne: 1, D.C. National Half Marathon: 0. Heh. 😉
I am back safe and sound in Chapel Hill and Monday has rudely already arrived, complete with cold weather, rain, and the promise of a long day of class. Clearly there's nothing to do but reminisce about the awesome weekend I had in D.C., right? 🙂
First up? A post-race lunch at my beloved Sweetgreen on Saturday with fellow awesome bloggers (from left) Sana, Evan, Matt, and Gena!
We had a great, laughter filled lunch, which ended up stretching over a few hours because we all couldn't stop talking (and taking pictures)! 🙂
That's my girl Gena above, who you all will remember just wrote a guest post for me last week sharing 5 delicious raw, vegan recipes! So wonderful to see her in person again 🙂
Delicious food, too! Even though I had already eaten a big BLT (plus a fried egg) at home right after the race, I was already hungry again. Gotta love long runs!
I had the Sabzi salad (baby spinach with spicy quinoa, white beans, raw beets, radish, basil, sprouts, dried cranberries; topped with a carrot chili vinaigrette — I also added some apple and sweet potato just for fun):
And a little bit later I somehow found room for frozen yogurt, too 😉 I think I have a separate stomach for Sweetgreen's frozen yogurt. It's my absolute favorite!
Thanks for the great lunch, friends! You rock. And a big congrats to Evan for running his first full marathon yesterday! Considering how sore I was after 13.1 miles, I can't even imagine how sore I'd be after 26.2 😉
I think seriously nearly everyone I know through blogging was in town for the race this weekend! If you're on twitter, you know we were all using the #bloggersinvadeDC hash tag 🙂
In honor of the blogger invasion, we had a big blogger/reader meet up at Northside Social in Clarendon on Saturday night so everyone could mingle. Crazy that I've met all these awesome people entirely because of blogging!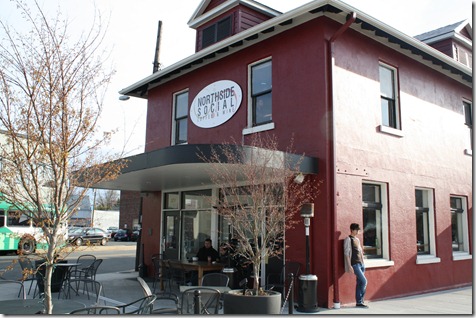 (Photo borrowed from Caitlin 🙂 )
It was so much fun to see old friends and meet some new ones, too!
Here I am with the lovely Stepfanie (recognize her from the great "best stretches for athletes" guest post she wrote for me last week? 🙂 )
With Lauren, Megan, and Lauren!
With Tamsin & Theodora (remember when the three of us had a fun DC running date last summer?)
And with a slightly blurry Emily!
Emily is pregnant (!!) so she decided not to run the race this weekend, but was super sweet and still came out and cheered for all of us (along with Caitlin, Brittney, and others)!
(Photos courtesy of Emily — the Casey referenced on the sign is her husband!)
Check out this fun action shot Emily got of me during the race — I was SO excited and surprised to see them all there cheering! I actually saw them at mile 3 AND mile 11 — this photo is from mile 11 🙂 Clearly I was still in good spirits!
Anyway! After the meet up Saturday night , a small group of us headed to dinner. Love this photo!
From the left — me (obviously), Megan, Nicole, Caitlin, and that's Emily on the top! 🙂
The fun continued yesterday with brunch with Tina, Kelly, and Tina's friend Katie.
That's me with Tina, above. She's actually coming to visit me in two weeks! Can't wait to see her again 🙂
We went to a great place in Eastern Market area called Zest Bistro.
Mmmm. I had the Chesapeake Eggs Benedict, which was sourdough toast topped with crab, bacon, and egg. SO GOOD! I asked them to hold the hollandaise sauce — not a fan.
Whew! I spent the rest of yesterday hanging out with my mom, grandmother, and Matt, and couldn't believe when it was already time for me to make the drive back to NC! This weekend seriously went by in the blink of an eye.
I'm feeling kind of sad this morning, not only that my fun weekend in DC is over but also that my big race is over!
It's always kind of sad when something you plan for and prepare for for so long is suddenly over, even if it went amazingly well.
How do you tackle the post-race blues? Should I sign up for another race? Hehe. I'm just happy that after my second half marathon, I actually want to do another one already, unlike after my first half marathon where I basically never wanted to run ever again! 😉