Hi friends! I'm getting pumped because tomorrow is the Rock 'n' Roll DC half marathon (<—last year's recap)! This is one of my favorite DC races – I first started running it in 2011 when it was still the National Half Marathon, then ran it again in 2013 and 2014 and 2015 when it became a Rock 'n' Roll series race! Hard to believe this will be my 5th time doing the race. 🙂 The only year I've missed since I started running it was 2012, and that was because I was doing the Tobacco Road Half Marathon down in North Carolina during grad school instead. I love DC Rock 'n' Roll because it has some pretty monument views but also goes through a lot of the neighborhoods in DC, so there are a ton of people out cheering you on. Always fun to run through my favorite city with 30,000 fellow runners. 😉
I hit up the race expo yesterday afternoon to snag my bib before the crowds got crazy – success! As always, a big thank you to Brooks for hooking me up with a bib for this race due to my ongoing Run Happy Blogger Ambassadorship.
Who else is running Rock 'n' Roll DC half or full marathon tomorrow? My advice: enjoy the views and the spectators, be prepared for the big hill around mile 6 (but then once it's over, it's mostly flat the rest of the way!), and show up super early – the race is usually well organized but it is MASSIVE and that means everything takes awhile – bag check and porta potties can be especially crowded so save yourself the stress and arrive early! The race starts at 7:30 so plan to be there by 6:15 or 6:30 at the very latest. Also, just in case: How to Fuel for a Marathon or Half Marathon. 🙂
I haven't decided if I'm going to race the half marathon/try to PR or just use it as a faster but not crazy fast training run for the Cherry Blossom 10 miler. I think it'll be a game time decision based on how I feel – we'll see! My track workouts have been on point the last month, but before that I was a bit of a slacker due to the cold/snow, so I don't know if I'm quite where I'd need to be for a PR – but you never know, I guess!
So – what have I been up to this week in preparation for the race? My week has been similar to a normal week but minus the boot camp action and plus an extra rest day. Here's what I've been doing!
Fitness Week in Review
Monday: rest day! Enjoyed some light walking and the sunshine.
Tuesday: track workout! The weather was awesome and a bunch of us are doing the race this weekend so it was fun to nerd out about it with the gang. I did four 1200's (3 laps) at a hard but not insane pace followed by one fast 400 (one lap). Great workout! My track buddy was back after her travels last week so I was glad to have her to run with – we push each other on pace AND chat a bit so the laps go by quickly! As usual, my watch just includes the workout – not my warm up or cool down.
Wednesday: lunchtime yoga class downtown via ClassPass (<—affiliate link for $20 off). I hit up Epic Yoga in Dupont and it was fabulous as always – so calming. Here's my post-yoga packed lunch that I enjoyed in sunshine-filled Dupont Circle – leftover homemade vegetarian walnut and mushroom enchiladas! Recipe coming next week. 🙂 Matt and I have both been enjoying them!
Thursday: morning shakeout run date with Chelsea and Kathleen! Excuse the sleepy eyes. 🙂
In lieu of our usual early morning boot camp workout date, I asked if the girls would be up for a light shake out run instead since I didn't want to kill my legs before the race. They were up for it and we were treated to amazing weather – running in shorts and a t-shirt in March was amazing.
4 fun chatty miles, done! We hadn't done a weekday morning run date in ages – might have to do that more often! 🙂
Friday: rest day/light stretching! I had a session scheduled with personal trainer Paul Medina from Capital Energy Training this morning as part of our ongoing partnership (more on that in this post). We hadn't been able to meet in a couple weeks due to my travel to NYC two weeks ago and then he came down with the flu last week, so I didn't want to cancel, but asked if we could keep the session stretching vs. strength. He was on board and we focused on stretches that would help loosen me up and get me ready for the race but not tire me out! 🙂
I definitely have noticed a difference in how tight everything is after not training with him in 2 weeks – and he noticed it, too, so today's session focused on loosening up my super tight hips in preparation for tomorrow's race. Here are three of the moves that we did that I thought you guys might like to try yourselves at home, especially if you are running tomorrow – whether a race or not!
On top in the collage below: a simple leg lift. Stand with your legs together holding onto something with your hands to stabilize you, then slowly lift your foot/leg out to one side. Hold for a few seconds, then slowly bring it back down and repeat. We did this move with a band for a little extra resistance to open up the hips but you can also just do it without any resistance, as pictured.
As for the other moves in the collage above, stand still holding onto something with one hand, then lift your outer leg out in front of you, then over across you. Think about making an "L" shape with your leg movements. Come back slowly the same way and repeat!
As for the move pictured below, you can do this one holding a small weight – again to help open the hip even more – or simply do it without any weight, as pictured. Stand still with your feet together and one hand holding onto something, then slowly bend over, lifting your other hand in front of you and the same side leg behind you.
Let me know if you try the moves – I think I'll be doing them in the corrals tomorrow morning, too! 🙂
And now, before I go, I wanted to give a shout out for my friend Gina's new 12 Week Comprehensive Post-Partum Fitness Plan. Obviously I haven't tried this out myself, but I have read through the plan and Gina was able to achieve a combination of motivating but supportive and positive messaging wrapped up into an extremely impressive program for new moms looking to get back their fitness. I work closely with Gina each year to co-host the Winter Shape Up and know she is an experienced trainer that I'm happy to recommend, so I wanted to give her new program a shout out from my new mom readers. Here my affiliate link for the program if you'd like to check it out! All the workouts can be done at home or with your baby, and involve minimal equipment. Gina also does a great job ramping up the workout plan using a safe and manageable approach, building up cardio endurance and lean muscle in a sustainable, non-extreme, and encouraging way.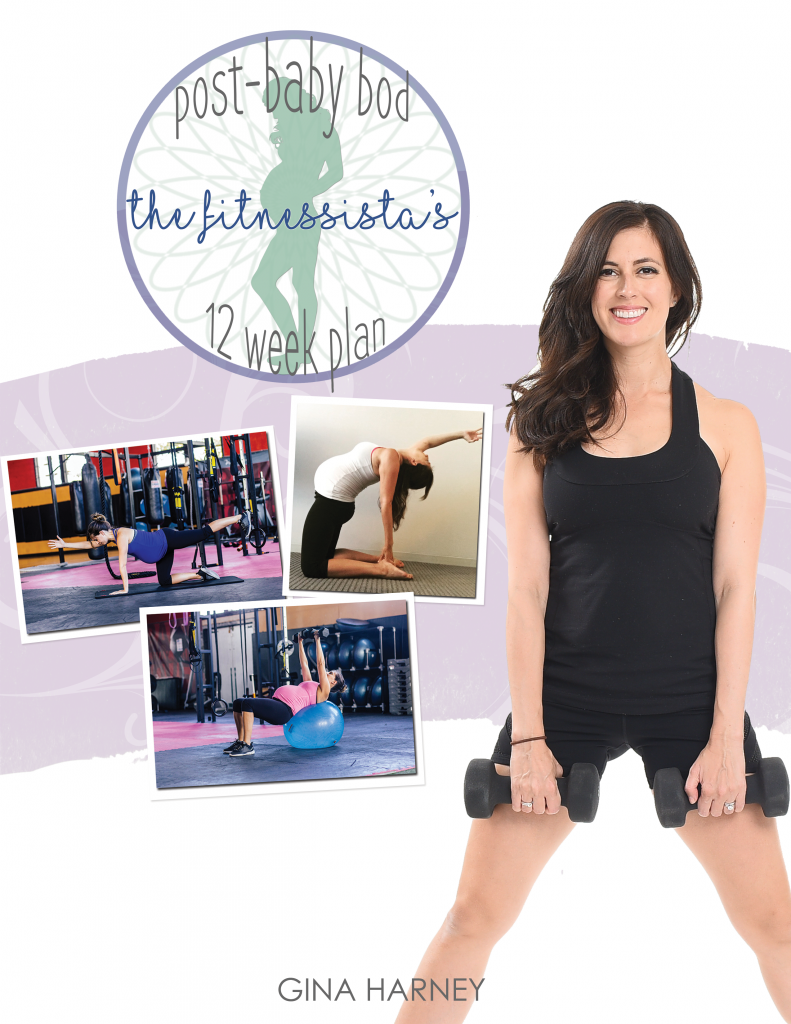 Have a great weekend, my friends – and I hope to see some of you out there running tomorrow! 🙂
Weekend reading/recipes to try: