A couple weeks ago, my friend Julie posted a "five" themed blog survey on her site and I thought it would be fun to mix it up today and play along with a similar variation. I'd love if you guys did the same – either in the comments or on your own blogs! Thanks to Julie for the idea – and for the graphic below. :)
Five: a Random Blog Survey!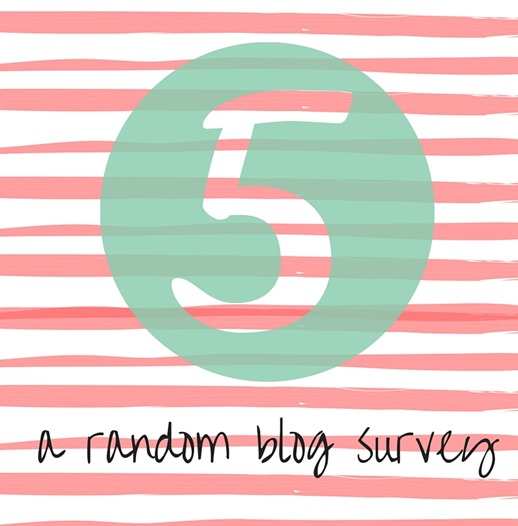 Five Most Popular Recipes on my Blog
Five Talents I Wish I Had
Piano playing
Guitar playing
Website Coding/Developing
Graphic Design
Running a 5 minute mile ;)
Five Favorite Non-Recipe Posts on my Blog
Five Places I'd Love to Visit
You'll notice the theme is all spots that are great for outdoorsy adventures – my fave! :)
Alaska
Hawaii
Patagonia
Iceland
New Zealand (I've already been there while studying abroad in Australia but I'm dying to go back again!)
Five Foods I Eat Every Day
Five Movies I Can Watch On Repeat
(Apparently I love holiday-themed movies…)
Love Actually
Forrest Gump
A Christmas Story
Elf
Eternal Sunshine of the Spotless Mind
Five Favorite Nutrition Posts on my Blog
Five Best Health Tips
Get enough sleep
Slow down while eating (see also: How to Eat Intuitively | A Guide to Mindful Eating)
Add veggies to meals for added volume
Make fitness fun (see also: How to Love Exercise (or at least not hate it))
Put no foods off limits (you'll want them more!) – but only indulge when it's worth it – not just because something is there/you're bored/stressed/whatever (see also: Because Being Healthy Means Not ALWAYS Being Healthy)
Five Things I Wear (Almost) Every Day
My wedding and engagement rings :)
This wrist watch (Christmas gift from my mom back in 2014 that I've been obsessed with ever since – love having a real watch so I'm not always looking at my phone for the time and then going down the rabbit hole of email/social media)
Lip balm (this one is my fave)
Five Beauty Products I Use Every Day
(For more of my faves, see this post: Favorite Natural and Organic Beauty Products)
Five Books I Want To Read (or Have Just Read/Am Reading)
Your turn! Pick a category or a few and share your answers! :)
—
Please note there are affiliate links in this post.